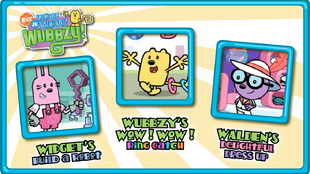 Wubb Minigames is a trilogy of the three original Wow! Wow! Wubbzy! games that were posted on NickJr.com months before the show aired.
The three games each later became their own individual game.
Contains
You are given a menu of the three games to choose from. When you select a game, you will enter it on the same page. To go back to the menu, you must click the 'X' button on the top-right corner which exits the game.
The individual versions of the games do not have that 'X' button.
Music
The very beginning of the show's opening theme loops endlessly.
Link:
Original Trilogy: http://web.archive.org/web/20070107154929/Nickjr.com/game/assets/wubb_minigames/wubbzy_menu.swf
Gallery