Userboxes
| | |
| --- | --- |
| | This user is a great fan of Wubbzy! |
| | |
| --- | --- |
| | This user has been on Wubbzypedia for 4 years, and 28 days |
This user is taking a wikibreak!
This user may be inactive to do other things, and may return:
I do visit the wikis daily to see the activities.
I wanted to mostly focus on the pictures. There's still more to take, but yeah, I need a rest.
Not to mention, there are some complicated things that only I can do.
I'm possibly Wubbzy's #1 fan, and I want to give this place the support it deserves! I'll be writing transcripts and uploading hundreds of images from the episodes, and a few smaller things.

   ╭∩─∩╮
   |ᴖ●ᴖ|
Ә~~| ᴗ |~~Ǥ
Ҩҩҩ╰‖─‖╯
    Օ Օ

Uploading Pictures
When I upload pictures, I use DVDs to play on my PC. I stop on the appropriate frame every second or so, shoot it with the 'Print Screen' key, paste it on MS Paint, and save it. For every frame, I have to number it and caption what's happening every time.
If a character's talking, you'll see it say whatever he/she's saying. For example, you'll see "123 Hello, ladies and gentlemen!" when a character literally says that. Other times, the captioner, me, might say something about what's happening, and it'll say something like "123 Wow, Look at Him Go". There are almost no end marks, and most of the words are capital. I do this so no one will get confused whether a character's talking, or I'm talking. I also might fit in a joke or a bit of trivia if I run into those opportunities. I wanna write something for each image besides just the number, even if it's "..." or something interesting, just to give a bit of variety. If the caption bugs you, you can just ignore it and look at the pictures alone.
There's many shots I like to take for each moment. When there's different good shots to take during a sentence, I might either break up a quote, like "Hello," and "everyone!", or just say "Hello, everyone! 2". It really just depends on what wordings make it work better to choose from.
Like I mentioned, I take shots of the episodes from DVDs. Not the best choice because they have bad quality, especially on ones where they're noticeably bad. Sadly, it's the easiest to work with, and they're the only source I have to watch all the episodes with. I know there's also iTunes, and I checked out a free episode. The quality was better, but gosh! The time bar doesn't disappear when it's paused, and it runs badly. Probably because of my bad computer. That, and iTunes is not meant to take pictures of material in. Unfortunately, DVDs will have to do, at least maybe for now.
I now have all the episodes, and both movies, on YouTube in HD. I can take way more clearer images, but sadly, I'm no longer in the mood for uploading episode galleries at the moment. I can still take new pictures of the characters for this site, which I've already done. Sorry, interest sickness. Maybe eventually when I get in the mood again, I'll get back to the episodes, but don't expect me to get as many as I used to collect. For now, I'll be worrying about the Wubbzy merch.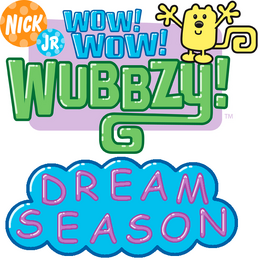 Wow! Wow! Wubbzy! Dream Season
Dream Season is my personal season of 'Wow! Wow! Wubbzy!'. Although it's not finished yet in terms of imagining the plots, I know that these would make great stories that people would enjoy if they were on the show (for the most part). There's new characters, lessons, songs, shorts, and emotions. Yes, emotions.
As shown in one of my sketches below, there have been episodes of the season where one or more characters are in tears. With all do respect to Wubbzy, I think the show would've gotten better attention if it had more of that sad feeling. I'm actually surprised that crying is rarely seen on the show. I think this season feels more Hub Network-esk now that I think about it. (I know it's not called 'Hub Network' anymore, it's now 'Discovery Family'. The new name's so bland, I can't remember it.)
I have actually written the first episode of my Dream Season a little while ago. Check it out! http://kandoo4.deviantart.com/art/Wow-Wow-Wubbzy-DS-The-Train-Trip-to-Toy-Universe-685467739
Gallery
Community content is available under
CC-BY-SA
unless otherwise noted.