Userboxes
| | |
| --- | --- |
| | This user is a great fan of Wubbzy! |
| | |
| --- | --- |
| This user is a fan of season 2 of Wow! Wow! Wubbzy! | S2 |
| | |
| --- | --- |
| | This user's local time is 11:09 PM (Purge to update.) |
| | |
| --- | --- |
| | This user has been on Wubbzypedia for 1 years, 5 months and 0 days |
Welcome to my profile :)
Another wikis where I edited
Go to my matrix!
Who I am?
A boy of 16 years who has been one of the greatest admirers of the Wubbzy series, but as it says "I live in", I'm from Latin America (another language).
I'm a bureaucrat of Wubbzypedia, and give all the best to make this site as pleasant :). If you experience problems or want to give me suggestions, send me a message to solve the problem or take your suggestion into account :)
How did I discover Wubbzypedia on the web?
By the user "Wubbzy! Wow!" (after I created a channel for the compilation of the Latin dubbing of Wubbzy). I discovered that he was uploading Wubbzy content in HD, and that his animations (his avatar in YouTube), he kept in this wiki, on his user page.
About Wow! Wow! Wubbzy!
I know that, when the early promotions of this series passed, around September of that year (2007), I found it an interesting series, it attracted a lot of attention, and I would expect its release date. Seriously, I liked the series a lot, I always expected an episode of that series, and sometimes I stayed up at night to watch their reps (approx. 4:00 am). Even in 2016 (this year the series partially withdrew from Discovery Kids schedules and went to the "museum"), I stayed up, and watched the series again, and remembered how interesting it was! I think that's how I stayed up until 2017 (when Wubbzy was completely removed from the Discovery Kids schedules, and it wouldn't be broadcast anymore), until this series I didn't see her again :( I only had memories left.
It was a quiet time in 2018, and after exploring several topics that I liked (such as technology), I saw in Recommended Videos, a compilation video of old cartoons, and I went to see that video because I was bored, until that "Wow! Wow! amigos, mi nombre es Wubbzy", touched my impulses again, that cartoon of a yellow gerbil that I always liked to see as a child, returned to my senses and entered my expanded memory as a teenager.
I thought that, like other series, I could find the series on YouTube or other sources, unfortunately, all Wubbzy's full EPs were deleted (to my bad luck, the Spanish dubbing), and the user who suspiciously had the EPs, left YouTube without a trace .. I was sad to not see any episode of the series again :(, until I found 1 EP of this series in its second season (it was the season I liked most), and in Latin Spanish, giving me Most notable memories of the series again. I used my YouTube channel that I never used, to share the intro of the second season of this series (which nobody had uploaded), and it did get support among users!. While looking for Wubbzy in that language, a Wubbzy channel appeared, it was "Wubbzy! Wow!", With very few subscribers and watching more closely, he shared Wubbzy songs in HD, which impressed me, this, for being an old series. I saw in his links, something that said "Wubbzypedia", I clicked, and from here, my knowledge about Wubbzy, expanded a lot, and I saw that I was going in the right direction. I thought this website would be abandoned due to the low interest of the series for people, but I saw that this website was still in full maintenance, thanks to a big fan of this series (a very large one). I was very excited, and I wanted to support this wiki now! I started with international videos (videos in other languages), and, looking at the side of the infoboxes, I wanted to update them to the new system now! Yes, I would use my knowledge to give the wiki a great stay!
This is how you now see that I am admin of this wiki and that I always look for ways to help this wiki. I'm waiting for more Wubbzy fans, as well, I'm still looking for the series in Latin Spanish dubbing.
My major actions of the wiki
In addition to fixing small errors in the articles of the wiki, I'm contributing in these mentioned parts:
In progress
Songs (Looking for the versions in other languages of these songs)
Other things I do is to make sure that the wiki has the latest features and functions, so that there are more new things on the wiki. I know this wiki is more than 10 years old, but updating the functions of this wiki is not impossible.
MediaWiki:Gadget-Widget.css (Widget Theme for Wubbzypedia)
MediaWiki:Gadget-Daizy.css (Daizy Theme for Wubbzypedia)
MediaWiki:Gadget-Walden.css (Walden Theme for Wubbzypedia)
MediaWiki:Gadget-Kooky.css (Kooky Kid Theme for Wubbzypedia)
Finished
Uploading images
The first thing is to get the episode, short or song to capture. At the moment I only work with HD videos.
Afterwards, I capture several frames of the video at random, making sure that the most important parts are captured (it's the easiest part :) ).
Then, I must check that the captures are totally coordinated without changes of messages (it goes from reviewing the position of the characters, see their eyebrows, look, effects, etc.). I should also check that there are no repeated images.
After having removed images, I must change the name of all the photos (That way they can go in order (1, 2, 3, etc.)). I have the "Advanced Renamer" program for that purpose.
Now, it's up to upload the photos to the wiki. Unlike other members who upload the images one by one, I use the program called Wiki-Up to upload the photos. I upload all the photos in one step.
Now it's time to create the article, and put:

<gallery>
// names of the files...
</gallery>

It is not easy to put each file number. It's boring. But now, with the help of Name Sequencer (included in this wiki), I just have to put the name data of the images, put the total number of images, and copy it to the code of the article.
Then, I just put "Publish" and voila, episode / short / song images have been created. This new method of uploading images is easier and without long-term delays.
Latin dubbing (M&M Studios and DINT)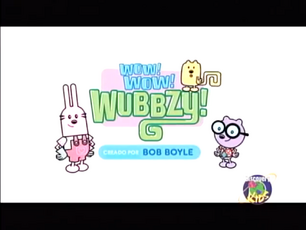 It was broadcast by Discovery Kids, Monday through Friday until 2011 or 2012, and then, Saturdays and Sundays thereafter. As of 2015, it was only broadcast every day at 4:00 a.m. until 2017 (this in my country).
The first season of Wubbzy was dubbed by M&M Studios, in Venezuela.
The second season was dubbed by "Doblajes Internacionales DINT" in Chile.
That change of dubbing studio, for some people, was very inappropriate. Some stopped watching the series, staying with season 1, and others accepted (like me, I can say that I grew with the second season).
I can tell you some differences of the original language and its dubbing in the Latin Spanish language:
Before, the title cards in season 1 were translated. In season 2, these were not translated.
No short of Wubbzy was dubbed into Latin Spanish (they were replaced by commercials).
Many words that use the prefix "Wubb-", is changed by the word "Wubbzy" (sometimes as a prefix). Example: WubbGirlz = Wubbzy Chicas, Wubbmobile = Wubbzymóvil, WubbClub = El club de Wubbzy, etc.
In the song "One Step at a Time" (Paso a paso, debes andar), there are two parts that do not say "Paso a paso, debes andar" by the middle part.
In the song "Share", only the word "Dar" was used to rhyme the song with the lyrics. In addition, from paragraph 7 to 10, only "Share your home" "Share a book" was doubled. His next paragraphs were replaced by "Invitar" "Compartir" (Consequential of higher paragraphs), cutting the message that was wanted there.
Amount of dubbing rescued:
They have discovered in total 17 songs of season 2, 6 songs of season 1, more than 5 fragments of these 2 seasons, 3 full episodes of season 2 and 4 full episodes of season 1.
Wubbzy merchandise
In Latin America, there was no merchandise of this series. There were no DVD's, there were no toys (except for some, which were a little difficult to get), there were no stuffed animals, no digital games (translated into our language) (there was "Cupcake Digital", unfortunately without the dubbing we know) , there was no clothing. There are books in Spanish, although, like some toys, they were hard to come by.
It is very sad to know how little Latin America received from Wubbzy.
What else?
For the moment nothing more. I will continue to see if there are more leaks of the Latin dub, and helping this wiki as many times as I can.
Goodbye, and thanks for reading this.
Wubb Club Certificates
Welcome!
I am a bureaucrat on Wubbzypedia, I grew up with the show in my childhood and I am happy to work here. I love this series more than another preschool series.
Any problem you can go to my message wall, I will be happy to help you.
Thanks for stopping by my profile :)
Community content is available under
CC-BY-SA
unless otherwise noted.