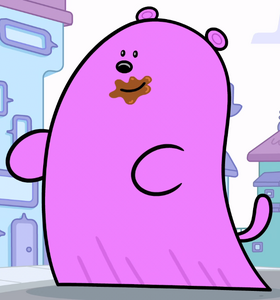 This article is about the character. For the species with a similar name, go to Fleegle.
Tiny the Fleegle (or simply Fleegle in the game)is a pet Fleegle that appeared in Wow! Wow! Wubbzy! who was bought by Wubbzy.
Description
Tiny is a male pet that Wubbzy purchased from the pet truck. When Wubbzy gave him a lot of chocolate, he ate them fast, then ate more and more sweets, causing him to grow and grow. From chocolate bars, to chocolate-covered Zing-Zings, to Jelly Snoodle-Doodles, to everything in the candy store, Tiny ate every next bit of candy he saw. He even carelessly took and ate a little girl's ice cream and Old Lady Zamboni's cake. He doesn't like apples and only cared about the sweets.
After he gave Tiny carrot juice to shrink him back to normal, Wubbzy hugged him and apologized for not knowing how to take care of him. He responded with a face lick, forgiving him.
Tiny wanted Widget's bologna sandwich. When she gave him a piece, he and his multiplied selves had no reaction other than smiling and covering the screen to end the episode.
Tiny also danced with Wubbzy in the Pet Party music video.
Looks
Just like a Fleegle, Tiny's body has long hair, and is colored light purple with darker purple lines around the bottom and rings on his ears. Because of his hair, his feet that can't be seen unless he jumps or stands on his toes.
When grown, his hands are bigger, and his face is smaller compared to how he looked when he was small and normal sized.
In Pet Party, Normal-sized Tiny is bigger than he was in Attack of the 50-Foot Fleegle.
Appearances 
On the show, Tiny had a prominent role in the episode, Attack of the 50-Foot Fleegle; and appeared in song, Pet Party.
Based on the show's episode, he also played a prominent role in the VTech V.Smile Smartridge video game, going by "Fleegle".
Also based on the episode, he appeared in a portion of three Simon Scribbles books, all under the same story but in different lengths. Those books being Everybody Loves Wubbzy (containing most of the story), Kooky Carry-Along Coloring Kit (containing a small part of it), and Wonderful Wuzzleburg (containing the whole thing).
He appeared on Wubbzy's Bilingual Treehouse Laptop as a displayed character from the character wheels.
His dancing vector was also featured on various Wubbzy merch.
Characters
Human-Like characters
Main characters
Recurring characters
Minor characters
Animals
Common

Bugs
Dinosaurs
Miscellaneous Characters
Robots
Aliens and others
List of characters | Characters category