The Tired Tail
is a
Wow! Wow! Wubbzy!
episode from
season one
.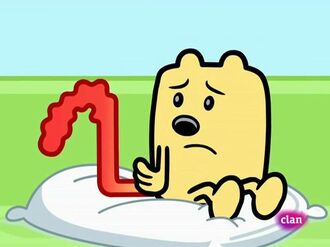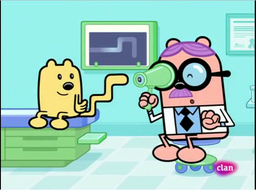 Characters Present
Summary
Doctor tells Wubbzy he has a case of Tired Tail and must stay home and rest, but Wubbzy would rather play on such an exciting day.
Recap
Wubbzy's tail loses it's spring while playing. Doctor checks his tail and diagnoses him with a Tired Tail which will require lots of rest. Wubbzy doesn't want to rest because of so many exciting things happening that day: the Wuzzleburg Bake-Off, Moo Moo's Magic Show, and a big kickety kickball game. At first, Wubbzy doesn't listen, but each time he gets his tail hurt worse. Back at Wubbzy's treehouse, Widget and Walden help him see how he can do all those things while resting his tail at home.
Trivia
This is the first episode of 2008.
When Wubbzy returns to the doctor after his tail gets better, the x-ray image of his tail in the background wasn't changed. The image had Wubbzy's tail drooping down, but in reality, his tail was raised. Although the doctor probably left the image up so he could see the difference between the tired tail and the better tail.