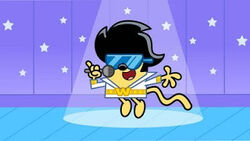 These songs are post-show skits that play on Wow! Wow! Wubbzy!.
Description
After most second vignette episodes, a song will play. These songs may also play following the first vignette, or two may be featured across a pair of episodes.
These songs are based on the lessons and situations from the episodes they follow. All songs are written by Bob Boyle and sung by Brad Mossman, except for Sing a Song which was sung by Beyoncé (Official Version, though the original version has still been sung by Brad Mossman), and Come Play With Me which features rap vocals by Mike Reagan. Brief vocal clips representing various characters are also featured in several songs.
In Season 2, Jukebox Robot songs were introduced. These songs are played after most season 2 shorts, encouraging viewers to dance and get active while watching the show. Jukebox Robot segments and songs are played after the first segment of each episode in the season except "Cupid's Little Helper", "Ty Ty the Tool Guy", "Hangin' with Mr. Gummy", and any of the Wubb Idol episodes. The latter two categories omit these segments across the episode pair.
From 2014 to 2016, the Fredbot YouTube channel uploaded most of the show's shorts and songs. In 2015 and 2016, the channel also uploaded new nursery rhyme videos featuring Wubbzy and Lucy the Dinosaur.
Table
The seascorrespond to the season the song was introduced in.
№
Title
Featured after
Release date
Season 1 (2006-2008)
1
"Look, Don't Touch"
"Special Delivery"
August 21, 2006
2
"Pet Party"
"Attack of the 50-Foot Fleegle"
August 28, 2006
"Zoo Hullabaloo"
December 11, 2007
3
"Ask For a Little Help"
"A Little Help From Your Friends"
August 29, 2006
4
"Perfect Day"
"Perfecto Party"
August 30, 2006
5
"Mr. Cool"
"Mr. Cool"
August 31, 2006
6
"That's What Friends Are For"
"Gidget the Super Robot"
September 5, 2006
"Wubbzy's Big Movie!"
August 29, 2008
7
"Imagine"
"The Wubb Club"
September 6, 2006
"Hangin' with Mr. Gummy"
February 25, 2009
8
"Ya Gotta Be Free"
"The Flight of the Flutterfly"
September 7, 2006
9
"Don't Lie"
"Wubbzy Tells a Whopper"
October 3, 2006
"The Wubbzy Shuffle"
May 9, 2008
10
"You're a Star"
"Wubbzy the Star"
October 3, 2006
"Flower Day Parade"
April 10, 2009
"Lights, Camera Wubbzy"
April 30, 2009
Wubb Idol (DVD version)
October 13, 2009
11
"Magic"
"Magic Tricks"
October 19, 2006
12
"Wait"
"The Last Leaf"
October 26, 2006
13
"Made By You (Make It Yourself)"
"Dash for Dolly"
November 15, 2006
14
"Treasure"
"Pirate Treasure"
December 1, 2006
15
"Be Happy"
"Widget Gets the Blooey Blues"
December 28, 2006
16
"We're All Together (But We're Not the Same)"
"Everything's Coming Up Wubbzy"
January 29, 2007
17
"By the Book"
"Tea for Three"
February 1, 2007
18
"Kooky!"
"Puddle Muddle"
February 2, 2007
19
"Love Is All Around"
"Mr. Valentine"
February 14, 2007
"Cupid's Little Helper"
February 13, 2009
20
"Planet Fun"
"Fly Us to the Moon"
December 13, 2007
21
"Holiday Light"
"Snow Day"
December 14, 2007
22
"Small Thing"
"Wubbzy's Big Idea"
February 29, 2008
23
"Paint a Picture"
"You Gotta Have Art"
April 4, 2008
24
"One Step at a Time"
"Walden on the Beach"
June 20, 2008
Season 2 (2008-2010)
25
"The Wubbzy Wiggle"
Jukebox Robot segments
Various
"Meet the Wuzzles"
September 4, 2008
26
"Robot Dance"
Jukebox Robot segments

Part of it during "Big Bunny Blues" (Happy Hop)

Various
27
"Dance Dance Party"
28
"Happy Hop"
April 10, 2009
29
"Home"
"Wubbzy's Big Move"
September 2, 2008
30
"Too Much of a Good Thing"
"Too Much of a Doodle Thing!"
September 3, 2008
31
"Are You Ready?"
"Call of the Mild"
September 5, 2008
32
"Wake Up"
"Moo Moo's Snoozity Snooze"
October 14, 2008
33
"You Are You (Be Yourself)"
"What Would Wubbzy Do?"
October 15, 2008
34
"Different People"
"The Nasty Nose"
October 16, 2008
35
"New Kid"
"New Kid on the Block"
October 17, 2008
36
"Halloween Night"
"The Ghost of Wuzzleburg"
October 29, 2008
37
"Gift of Joy"
"The Super Special Gift"
December 5, 2008
38
"I Love You"
"My Speedy Valentine"
February 13, 2009
39
"Let's Be Quiet"
"Quiet Wubbzy!"
February 23, 2009
40
"Birthday Birthday"
"Big Birthday Mystery"
February 24, 2009
41
"Hero"
"Wonder Wubbzy"
February 25, 2009
42
"Don't Give Up"
"Daizy's Purple Thumb"
February 26, 2009
43
"Beautiful World"
"All Bottled Up"
April 22, 2009
44
"Sing a Song" (performed by Beyoncé)
part of it during "Wubb Girlz Rule"
April 27, 2009
"Wuzzleburg Idol"
part of it during "Wubbzy's Big Makeover"
April 29, 2009
part of it during "The Big Wuzzlewood Concert"
part of it during "A Wubbstar is Born"
April 30, 2009
"Wubb Idol"
May 1, 2009
45
"Time for Fun"
"Wubbzy's Wacky Journey"
April 28, 2009
Wubb Idol (DVD version)
October 13, 2009
46
"No Fear"
"The Big Wuzzlewood Concert"
April 29, 2009
Wubb Idol (DVD version)
October 13, 2009
47
"Me and My Friends"
"A Wubbstar is Born"
April 30, 2009
Wubb Idol (DVD version)
October 13, 2009
48
"Let's Do It"
"Ty Ty the Tool Guy"
December 14, 2009
49
"Share"
"What a Card"
December 15, 2009
50
"Focus"
"Focus Wubbzy"
December 16, 2009
51
"So Much to Do"
"Wubbzy's Rainy Day"
December 17, 2009
52
"Done With Fun"
"Run for Fun"
February 21, 2010
Miscellaneous
1
"Opening Theme"
Before all episodes
August 21, 2006
2
"Credits"
After all episodes
August 21, 2006
3
"Fizz-eee Whizz-eee Juice"
During "All Bottled Up"
April 22, 2009
4
"Come Play With Me" (performed by Mike Reagan)
Wubb Idol (DVD version)
October 13, 2009
Fredbot Kids Songs (featuring Wubbzy)
1
"Muffin Man"
N/A
December 3, 2015
2
"Hot Cross Buns"
February 4, 2016
3
"Row, Row, Row Your Boat"
March 17, 2016
4
"Pat-A-Cake"
April 29, 2016