The Jukebox Robot is a robot that appears in Wow! Wow! Wubbzy!.
Description
The Jukebox Robot appears many times in season 2 after almost every short. He tells Wubbzy what time it is and Wubbzy takes two guesses (Example: "Is it 11 o'clock?") to which the robot marks incorrect, twice. Wubbzy then asks what time it is anyway, and the robot tells it's time for a "Wubb Club dance party". The song then starts.
Jukebox Robot Segments' Table
Songs
There are four songs, each randomly rotated through by episode:
Wubbzy's Guesses
Appearances
Obviously, the Jukebox Robot appears in all of his initial segments after nearly all of the season 2 shorts.
He also appears dancing in the Jukebox Robot song, Robot Dance & he is also in one of the scenes in the Jukebox Robot song, Dance Dance Party.
He has a screen cameo in the Wubbzy video game on the V.Smile.
He appears in the book, Wiggly Day, with his original design. (See in Trivia below)
Gallery

For more, see: Jukebox Robot/Images
Trivia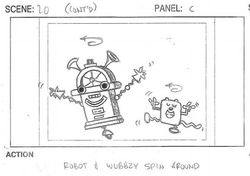 The Jukebox Robot's original design was shown in the Wubbzy Wiggle's storyboard, made in October 2007, and he was originally going to be in that song.

His original design officially appeared in the Wiggly Day book even though it got released two months after season 2's premiere, which is when he debuted on the show.

The Jukebox Robot does not appear after "Cupid's Little Helper", "Hangin' with Mr. Gummy" and any Wubb Idol episodes. The former episodes feature Sing a Song (from Wubb Girlz Rule), Love Is All Around (from Mr. Valentine), Imagine (from "The Wubb Club"), while the Wubb Idol episodes feature another song/no song in place.
It is unknown how Wubbzy guesses incorrectly, despite being featured in multiple episodes.
It is also unknown if this robot was invented by Widget.
Wubbzy wears the same costume when he guesses 'Summer time' and 'Swimming time'.
With the songs that played from all of the segments combined, the Wubbzy Wiggle played a total of four times (not counting after Meet the Wuzzles), Robot Dance played five times, Dance Dance Party played six times, and Happy Hop played five times.
Characters
Human-Like characters
Main characters
Recurring characters
Minor characters
Animals
Common

Bugs
Dinosaurs
Miscellaneous Characters
Robots
Aliens and others
List of characters | Characters category