DVDs
United States (Region 1)
For digital DVDs, see List of digital DVDs
Compilations
Miscellaneous
Europe (Region 2)
Australia (Region 4)
Toys
Plushes
Fisher-Price
Ty
Scholastic
Nanco
Nanco is the only brand to make Wubbzy plushies in more than one different size.
Funhouse!
Learning Laptops
Games
Video Game
Handheld Games
Board Games
Albums & Soundtracks
Books
Scholastic
Bolder Media Books
VTech
Simon Scribbles
Leisure Arts
Don Curry
Taco Bell
Taco Bell released a number of small Wubbzy books that are included in their kid's meals. They're all abridged versions of episodes from the show and can be read in both English and Spanish.
Nelson
Miscellaneous
Miscellaneous
A gallery of other merchandise and little things that feature Wubbzy and his friends.
Bedsets
Costume
Clothes and Backpacks
Scrub Tops
Fabrics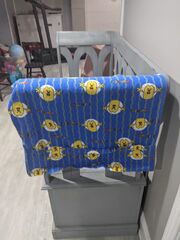 Puzzles
Party Supplies by Unique
German 2011 Calendar